I use TextMate all day in work and its about the only reason I'd consider buying a Mac, unfortunately its not a good enough reason for the price premium so I'm trying to find good work-a-likes on Linux.
A friend had recommended Scribes to me and whilst I've not played with it much it looks to have potential. Currently it has no 'Project' support, so I've hacked up a plugin to open files relative to the currently open file - this is built upon (butchered from :) ) the SnapOpen plugin for Gedit, itself modelled off TextMates 'Meta T' function. The significant difference is that since we have no project root to search below, we automatically search the folder, and subfolders of the current file. Each time you press the Up arrow it automatically moves the search root up a level. This works great for the rails apps I've been working on recently and should hopefully work fine for most medium sized software projects.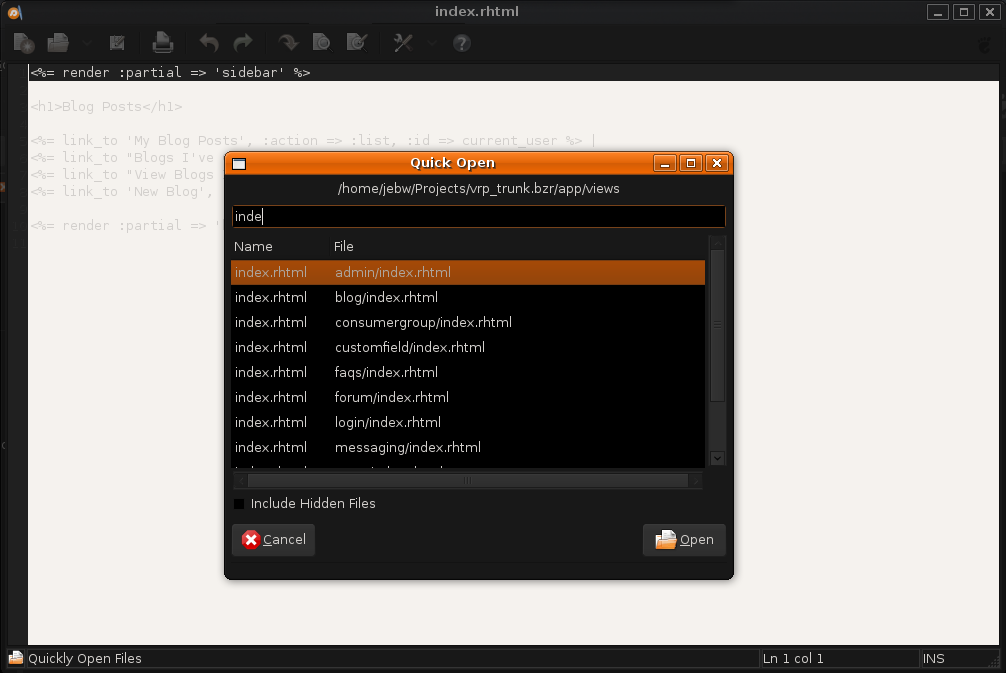 Caveats -: Its currently quite slow when working with subversion checkouts, since its finds all the .svn files, then excludes them with grep - this is a problem with Gedits SnapOpen plugin as well and I'm looking to replace the search logic with something smarter.
You can download it here. Just untar the file, and drop the contents into ~/.gnome2/scribes/plugins.
Alternatively grab the bzr branch from http://jdwilkins.co.uk/bzr/scribes_quickopen.bzr